"Wait! Put it on pause! I haven't gotten my butterbeer yet!"  My oldest granddaughter says in a panic as the movie begins to play.  "Oh, and I haven't gotten my snacks, either!"
"And I better go to the bathrooooom," our youngest shouts as she suddenly zooms past us and runs out of the room.
Papa and I glance at each other and chuckle.  So begins our Harry Potter weekend movie marathon.
Periodically, we gather for a weekend of magic, butterbeer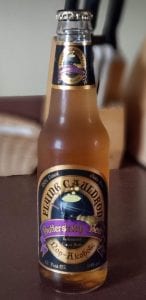 (purchased from a local vendor), and snacks that appeal to all tastes.   This weekend is one such weekend.
Yep, we're that family.  We are nearing the label of Potterheads.  These stories are beloved by all ages in our family, and we have made many memories around them.  In fact, we're currently in the process of planning our return visit to Harry's magical world at Universal Studios.  My husband and oldest granddaughter are looking forward to breaking out their interactive wands and revisiting all of the areas where the magic comes to life.
The children return to the living room and settle into their favorite movie-watching spots.  It's time for the magic to begin.
"Is everyone ready now?" Papa asks as he peers at each child.  They nod their heads.  "Okay.  Here we go!"  Papa pushes play, and I dim the lights.  Yes, here we go, ready to approach Platform 9 and 3/4 and enter that familiar, enchanted world yet again.